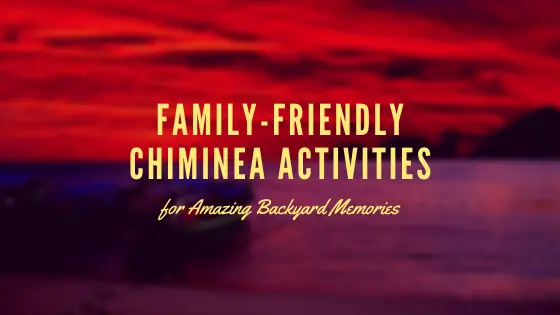 Family-Friendly Backyard Chiminea Activities
Updated: May 2, 2020
Building strong family bonds doesn't happen by accident. If you want to strengthen your connections, doing things together makes a difference. Research by Brigham Young University shows that sharing experiences has psychological benefits. By using family-friendly chiminea activities to create some amazing backyard memories together, you can enhance those familial bonds.
What Are Family-Friendly Activities?
Usually, an activity is family-friendly if people of all ages can participate safely, at least with a bit of guidance. Plus, it focuses on projects, games, or experiences that everyone can enjoy. You'll have as much fun as your kids, allowing you to all craft beautiful memories together.
If you are overseeing your children, you open plenty of doors for new, engaging experiences. You can take advantage of your chiminea in more ways, ranging from creating a sense of ambiance to utilizing the fire itself. Let's take a look at 12 family-friendly chiminea activities that are worth trying.
12 Family-Friendly Chiminea Activities to Try
1. Cook a Meal with Your Chiminea Fire
There are plenty of foods that you can cook using your chiminea. Hotdogs are an easy option. All you need is a long stick, and you can get going. Family members of all ages can participate, though young kids may require some help from a parent to make sure a hot dog doesn't end up on the ground.
But that certainly isn't the only option. We've covered the topic in-depth before. If you want to see some fun, tasty, easy chiminea recipes, take a look at our blog post, Chiminea Cooking: The Only Guide You Need.
2. Make S'mores for a Fun Treat
Calling s'mores a classic fireside treat feels like an understatement. According to National Geographic, this tasty snack's history dates back to at least 1927. That's right, that's nearly a century of tantalizing taste buds, though these amazing morsels may be older than that.
Really, s'mores are a quintessential childhood experience, making them a great family-friendly chiminea activity. Just grab some jumbo marshmallows, graham crackers, and chocolate, and make a memory that will certainly stand the test of time.
3. Take Turns Telling Stories to Spark Creativity
Fireside storytelling is another camping staple that's easily adapted to the backyard. Once the sun goes down, gather next to your chiminea and take turns spinning fictional yarns.
If your children are older, you can certainly focus on ghost stories. But, if you're kids are young, you don't have to focus on fright. Fairy tales can be an excellent alternative, ensuring there's enough intrigue to keep them engaged without some of the horror aspects.
4. Try Your Hand (Pun Intended) at Shadow Puppets
If your chiminea is near a surface, like a wall or solid fence, why not use the light to make hand shadow puppets. By adjusting the position of your palms and fingers, you can create a surprising number of animals, plants, and other figures.
You can simply explore the different hand shadow puppets with your family or use them to support a story. If you go the latter route, you might want to practice a little in advance. That way, the production is seamless by the time you hit your backyard stage.
5. Lead a Joyful Sing-a-Long
Another classic that goes great with time by a chiminea is a sing-a-long. If your kids are younger, you can always go with classic acapella tunes, like "Camp Granada," "Kumbaya," or "I Like Bananas."
But, for older kids, consider breaking out a phone, connecting to some speakers, and finding karaoke versions of their favorite hits. You can either download a karaoke app or head to YouTube for karaoke versions of popular songs.
6. Break Out Some Board Games
Board games by the chiminea are cozy and fun. You can enjoy the evening air and the warmth of the fire, all while taking part in a family-friendly activity.
Nearly any board game can work, so pick an option that's age-appropriate for your children. Just keep in mind that games that use cards might not be ideal if it's blustery out. After all, spending the evening chasing flying cards through the backyard might not be the best time, so focus on options with heavier pieces if there's more than a gentle breeze.
7. Learn About the Environment with Nature Collages
If you want your activities to be fun and educational, consider making a chiminea-side nature collage. This can be a great option for younger children, especially if you have a variety of plant species in your backyard.
Guide your kids and encourage them to pick up interesting natural materials for their collage. Then, give them access to craft supplies, like poster board, googly eyes, and pipe cleaners. Encourage them to make something fun while you talk about their discoveries. It can be a great way to learn a little about nature while making art.
8. Play Quintessential Backyard Games
There is a slew of backyard games that you can help you create some amazing chiminea-side memories. Croquet and cornhole are excellent options for burning off a little energy and having a good time. Plus, it's okay if you aren't really skilled, as they aren't hard to get the hang of as you go.
If you want a mental workout instead of a physical one, giant Jenga could be a better fit. It's the classic tabletop version, only much bigger. When it finally topples, it's surprisingly satisfying. Just keep in mind that this is probably better for tween and teens since it can get pretty tall, and the pieces might be a bit much for a small child's hands.
9. Put Together a Jigsaw Puzzle
Another low-key activity that kids and adults can enjoy is jigsaw puzzles. As long as you have a flat surface, there's no reason you can't put one together while enjoying the warmth of your chiminea fire.
You can either do a more complex puzzle as a family or do smaller, individual puzzles while chatting. With the second approach, you can make sure that each puzzle is age-appropriate for each family member, allowing everyone to have fun while being suitably challenged.
10. Make Some Paracord Bracelets
Paracord bracelets can be a fun craft that's perfect fireside. All you need is different color cording and some clasps. It's great for manual dexterity, but the process isn't complicated. Once you get the hang of the weaving pattern, you'll be churning out bracelets in no time flat.
Plus, your kids get a fun trinket to wear once they are done. That can be great for fostering a sense of accomplishment.
11. Spend Time Stargazing
Sitting by the chiminea and stargazing can be a great way to relax as evening turns into night. If you want to make the process educational, look up constellations that are in your area. Then, sit with your kids and try to identify those that are currently visible in your region. Once you do, you can talk about what they are and where they got their names, making the experience engaging.
But, if you want something more relaxing, there's nothing wrong with kicking back and enjoying the beautiful, natural show while chatting. It can put everyone at ease and may make it easier for some to talk about what's on their mind since the conversation isn't technically face-to-face.
12. Set Up a Flashlight Scavenger Hunt
Once the sun starts to set, why not send the kids out on a backyard, flashlight scavenger hunt. During the day, just take a few moments to hide some small trinkets in the yard (similar to how you'd prepare an Easter egg hunt). Then, let your children loose, with some adult supervision if they are young, of course.
You could create clues to guide them to the trinket if you'd like, or make the process more organic. Sometimes it's fun if it's a free-form experience that focuses on exploration. But, by using clues, you can engage their problem-solving and logic skills, and that's great, too.