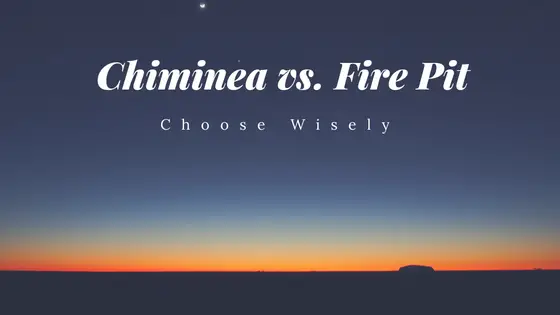 Chiminea vs. Fire Pit
Updated: December 28, 2016
Why should you buy a chiminea instead of a fire pit?
The chiminea has been a focal point for gatherings in gardens and on patios for centuries. From their modest beginnings as tools in the 17th century to their current attraction as a centerpiece for outdoor decoration and design, these objects have proven their worth time and again. However, fire pits have also drawn in many outdoor enthusiasts, leaving the question as to which choice is really better for you. Which one will be the safest and allow you to spend the most time enjoying your company?
Chimineas are safer
When it comes to safety, a chiminea is always a better choice than a traditional fire pit. Flames are directed up and out of the well-designed stack of the chiminea, giving a much more controlled burn than a fire pit can offer. This allows you and your guests to sit back and enjoy your evening, rather than worry about shooting sparks and flames that may go out of control.
In addition, the actual design of the chiminea, with its fire bowl and stack, was created to keep the smoke away from those sitting around the chiminea. As air comes in the front of the chiminea, it is then pulled upwards and out through the stack, creating a draft that draws the smoke up and out as well. Although they are a classic option chosen by many for outdoor gatherings, fire pits hold a variety of limitations and irritations that include:
Constant tending is needed unless you create a large fire, which poses safety hazards.
Guests will need to change seating whenever the wind changes direction due to the smoke.
Sparks can fly around, creating a burn hazard for guests and surrounding vegetation.
Not suitable for patios, porches, or inside your home.
These problems are easily solved by choosing a chiminea rather than a fire pit.
Chimineas require less tending than a fire pit
Once you have a small fire burning in a chiminea, you can sit back and enjoy the evening. Unlike fire pits, which require either a large fire or constant tending, a chiminea can burn for hours with just one or two small logs in the fire bowl. This is due to the design of the chiminea itself, which was originally created for the purpose of baking bread. Such a long-burning design is hard to beat when you want to enjoy a night with your friends and family, but do not want to spend much time tending the fire.
As mentioned above, the bowl and stack of the chiminea are designed to create a natural draft. Air enters the front of the bowl and is drawn up into the stack and out the top. This natural draft will keep your fire burning without you having to worry about fussing over the fire. With less time spent tending your fire, you can direct that time towards family and friends, truly enjoying your evening.
Chimineas can be placed in more places
Fire pits, no matter their design, simply have fewer options when it comes to where you can place them. With flames able to lick up and out and sparks able to float around freely, you must be very careful to place them well away from anything flammable.
Chimineas can be placed in a large variety of areas, including indoors if you choose a gas-burning style. A simple installation of terracotta tiles on your patio or porch will provide a fire-safe base for the chiminea to be placed on and keeping the chiminea a few feet out from any objects or walls will help to ensure that the heat does not pose a fire hazard as well.
Unlike fire pits, installation of a simple spark arrestor on the top of the chiminea stack will keep sparks from causing problems without blocking the fire itself. This makes tending a chiminea far more simple while covering safety as well, creating a much more preferred option for most fireplace enthusiasts.
Chimineas have a wider variety of designs and materials
While fire pits are generally limited where materials are concerned, a chiminea offers a wide range to choose from. Material types offered include:
Cast-iron
Copper
Stainless Steel
Painted Clay
Each material also offers a range of design options, giving you a chance to truly create a useful piece of art for your home, garden, patio, or porch. Whether you choose to use the chiminea as it was created, to burn wood, or choose to simply use it as a conversation piece in your interior design, the many design options make a chiminea a far more viable choice than a fire pit.
Chimineas can be used as an alternative heating source for your home
In addition to offering a great selection of materials and designs, chimineas also offer a few options for burning types. While the most common type is outdoor wood-burning, you can also purchase a gas-burning chiminea that can be installed inside your home just like a regular fireplace. This allows you to enjoy the beautiful traditional design indoors and can even be used as an alternative heat source for your den or living room.
This versatility allows a chiminea to serve the purpose of saving you money over the long run where heating costs are concerned, something a fire pit simply cannot provide. The gas-burning types are becoming more common every year as buyers look towards alternative heating options for their homes. This has made the chiminea a sensible choice for many owners who have chosen cast-aluminum or cast-iron styles for their home and use them to burn pellets or natural gas during the colder months of the year.
Overall, when it comes to choosing between a chiminea and a fire pit, the decision is yours. However, when you consider the versatile and beautiful design of chimineas as compared to the very basic and limited use of a fire pit, the best option is very easy to see.